Hurricane GeoPortal: Interactive GIS Data Mapping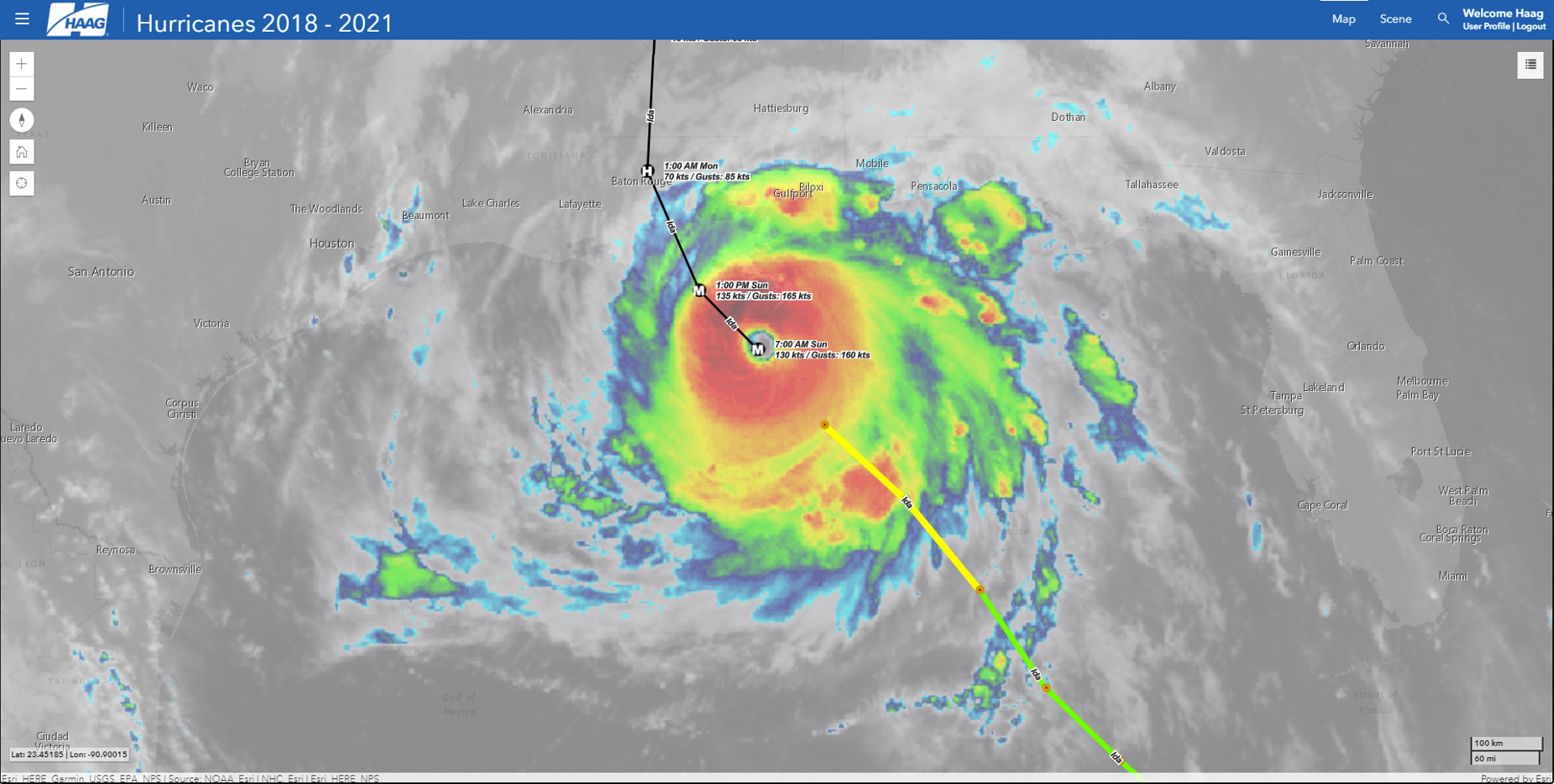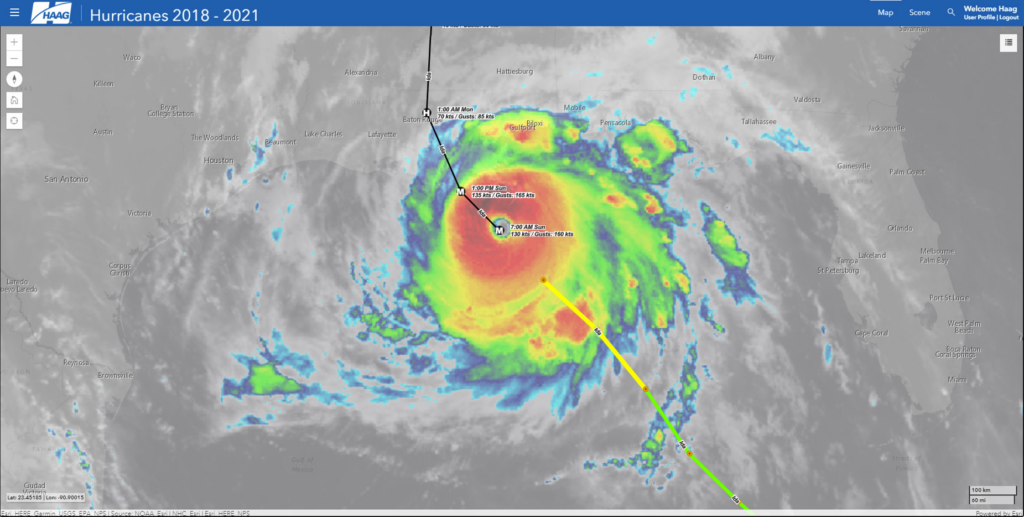 Satellite imagery, observed track and positions, forecasted track and positions of Hurricane Ida, August 2021.
In light of very active recent hurricane seasons, it is imperative for many businesses and individuals to have quick and reliable access to key data points. Haag believes that there is no such thing as too much data as long as the data is organized, relevant, and easy to access. The Haag Hurricane Geoportal checks these boxes and much more. It gives power to the user to view multiple datasets, interact with the data, and decide which information is most valuable to them. The Haag Hurricane Geoportal utilizes a map-based interface to provide on-demand access to several useful data sources including:
Real-time data for active and recent storms from the current hurricane season
Detailed storm data from the past three hurricane seasons with options to filter data based on storm name
Wind speeds and pressure at observed positions along a storm's path
Direct access to official National Hurricane Center (NHC) storm reports
Radar and aerial imagery data for storms
Access to local climatological data reports
NEXRAD radar mosaics for current and past storms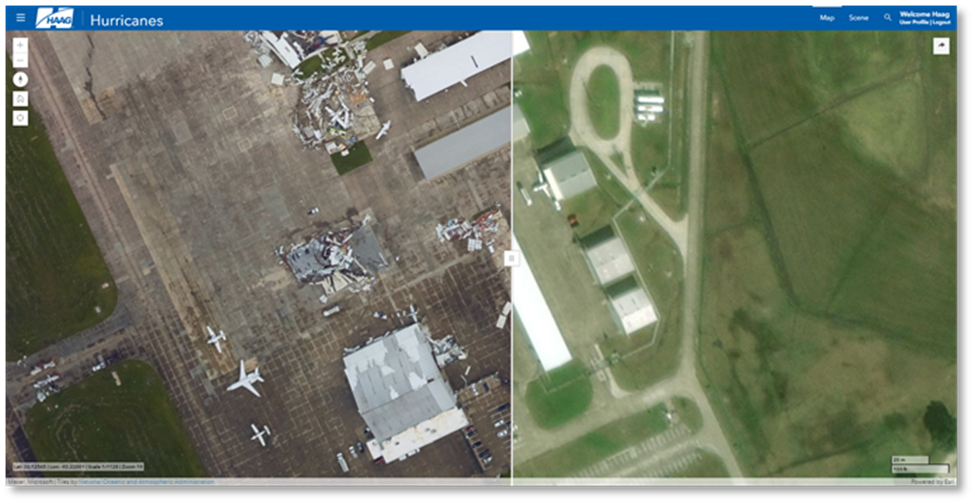 Before and after aerial imagery showing damages caused by Hurricane Laura, August 2020.
The Haag Hurricane Geoportal provides timely access to reliable data in one easy-to-use platform. While we can't stop severe weather from happening, we can create tools to help make proactive planning and recovery much easier. The Hurricane Geoportal is your one-stop shop for keeping an eye on the data for the eye of the storm.
If you would like to learn more about the Haag Hurricane Geoportal, please contact Marcie Deffenbaugh (mdeffenbaugh@haagglobal.com) to view a demo or for more information. Haag's Hurricane GeoPortal is available via subsciption– one year subscription for $50/month or opt for a month-to-month subscription for $75/month.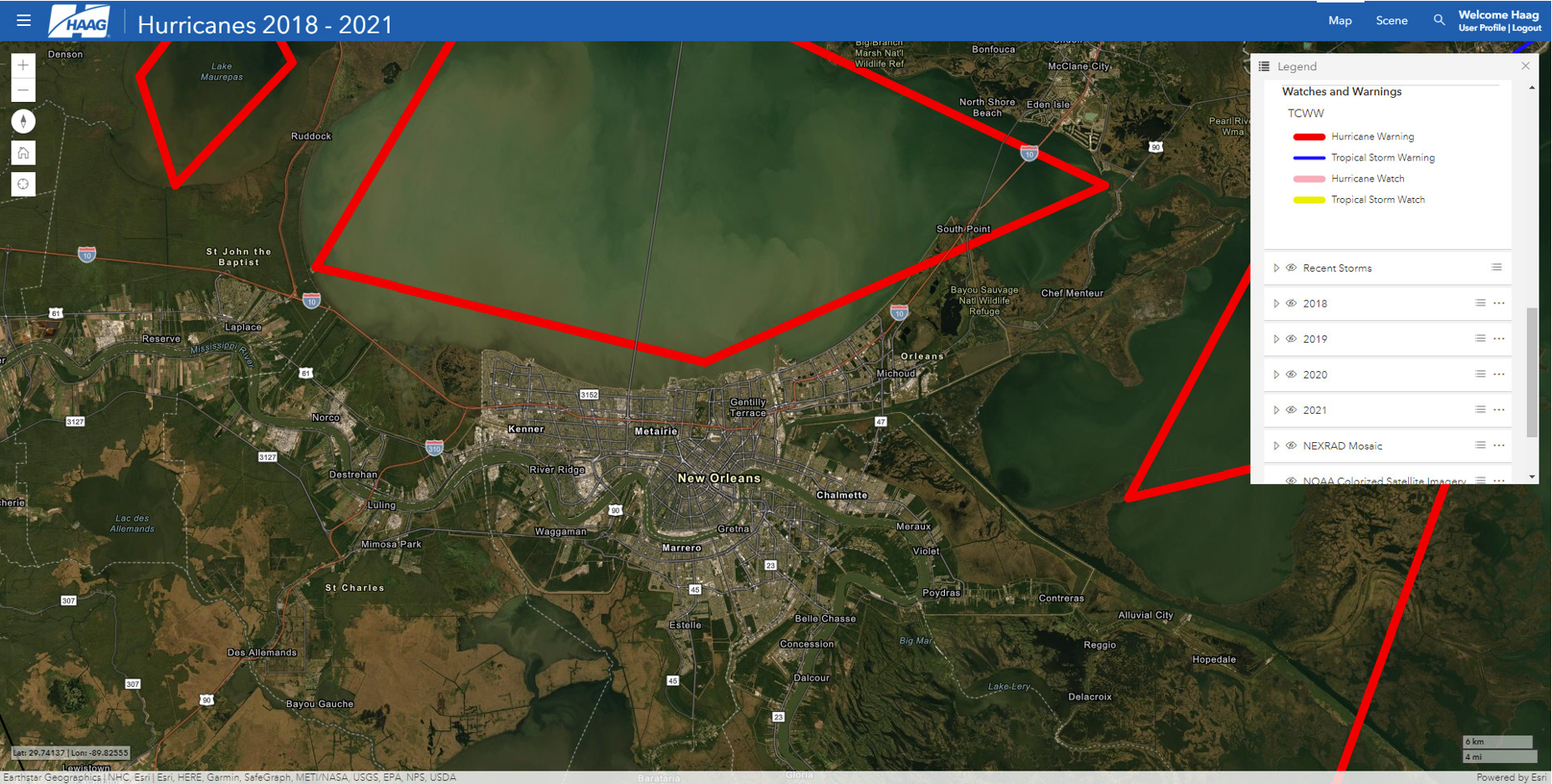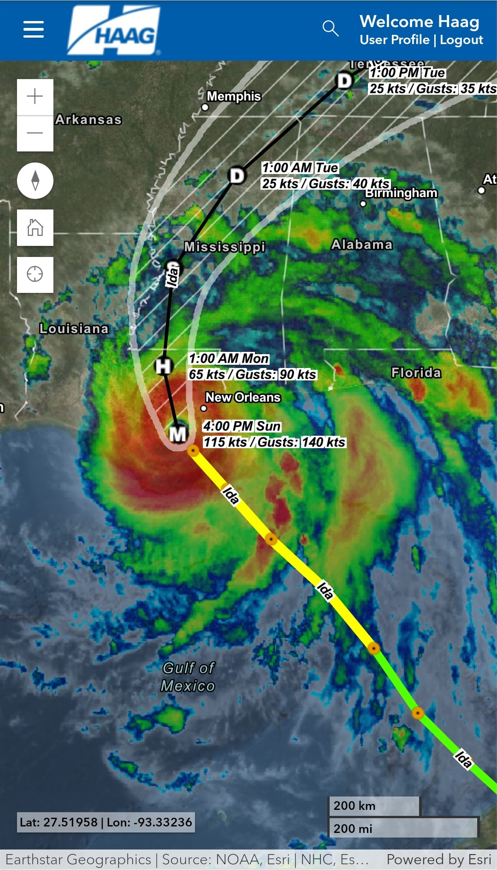 Above, zoomed-in view of New Orleans with hurricane warnings for Hurricane Ida, August 2021.
Left, mobile view of observed track, positions, and satellite imagery, as well as forecasted track, positions, error cone of Hurricane Ida.
---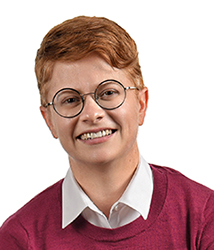 Marcie Deffenbaugh is the Manager of GIS Services for Haag Technical Services, a division of Haag Global, Inc.  In this role, Ms. Deffenbaugh oversees initiatives related to GIS planning, system design, and system administration. She also manages a staff of GIS technicians, analysts, cartographers, and project administrative assistants who provide data validation and project management services for oil and gas clients. As the primary liaison between the client management teams and Haag Technical Services personnel, Ms. Deffenbaugh provides technical consulting services on a regular basis.
___
Any opinions expressed herein are those of the author(s) and do not necessarily reflect those of Haag Technical Services, Haag Engineering Co., Haag Education, or parent company, Haag Global, Inc.