Engineer Chris Bright, P.E., is in Nashville, Tennessee, taking assignments now!
How GIS Can Help the Insurance Industry When Severe Weather Occurs
by Marcie Deffenbaugh, Haag Technical Services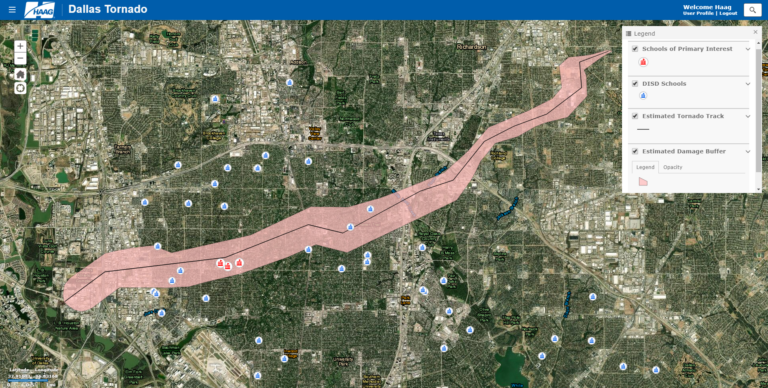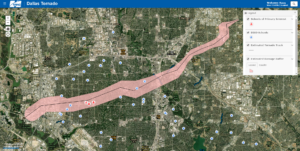 On the evening of October 20, 2019, thunderstorms erupted across the Dallas/Fort Worth Metroplex that produced strong winds, hail, and tornadoes. According to the National Oceanic and Atmospheric Administration (NOAA), a total of 10 tornadoes were identified by National Weather Service (NWS) Survey teams, the strongest of which was an EF-3 that stretched almost 16 miles across the northern portions of Dallas County. Following on the heels of that tornado, an EF-2 tracked about 2.5 miles through Garland in Dallas County. The remaining count of tornadoes included 4 EF-1s and 4 EF-0s.
Miraculously, no one was killed by the storms, but the devastation was widespread. The total estimated cost of insured damage for all the tornadoes alone is over $2 billion, which the Insurance Council of Texas claims is the costliest tornado event in the state's history.
When sever weather occurs, insurance companies must be able to react quickly in order to assess the damage and process claims as efficiently as possible. Additionally, companies such as Haag that are often called upon to assist with damage assessment need reliable access to relational location information– where are the properties making claims; is the damage in an area consistent with the reported storm information; what was the condition of the property prior to the storm; what is the historic data for previous claims made; etc. In these scenarios, a Geographic Information System (GIS) can be a powerful tool for assessing damage that has occurred. GIS is also useful for helping insurance professionals understand and manage risk before, during, and after an event.
In the case of the tornadoes that struck the DFW area, insurance companies could have utilized GIS in the following ways to not only react to the storms, but also put plans in place to proactively prepare for future storms:
Based on the tornado paths and estimated damage buffers related to each tornado, identify on a map the insurance company's policies in place that fall within affected areas.
Add layers to the map to help rank properties from low to high insurance values. Layers could include proprietary information such as property owner data as well as more publicly available information such as flood zones or even census data to highlight more populous areas.
As analysts visualize aggregated policyholder data and areas of high total-insured value, they see which locations have the most potential for significant losses.
For engineering firms working to assess the extent and causes of the damage, overlay historic imagery with post-storm imagery to help understand before and after conditions.
Haag's use of GIS for the Dallas storms included Haag's Technical Services division (HTS) quickly putting together a web map on the Haag Geoportal which showed the EF-3 tornado's track, estimated damage buffer, and Dallas Independent School District (DISD) schools within the track and buffer area. This map included three schools with extensive damage which Haag Construction Consulting and Haag Engineering eventually assessed the extent of damage and scope and cost to repair from the storm. HTS also linked panoramic photography captured with Matterport technology to the three schools of interest which allowed users to view internal damage from their desktop or mobile devices – no trips to the field required. Further, HTS incorporated post-tornado aerial imagery from UAS (drones).
While not conclusive alone, the above steps are a great start to utilizing geospatial information to assist insurance companies and other key stakeholders with proactively preparing for storm events as well as efficiently reacting to weather disasters when they occur. We can't stop severe weather from happening, but we can use GIS to help make proactive planning and recovery much easier.
For more information on how Haag can assist you with GIS and/or Matterport technology, please contact Marcie Deffenbaugh (mdeffenbaugh@haagglobal.com) or Kevin Kianka, P.E. (kkianka@haagglobal.com)
---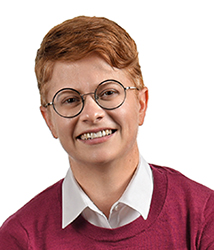 Marcie Deffenbaugh is the Manager of GIS Services for Haag Technical Services, a division of Haag Global, Inc.  In this role, Ms. Deffenbaugh oversees initiatives related to GIS planning, system design, and system administration. She also manages a staff of GIS technicians, analysts, cartographers, and project administrative assistants who provide data validation and project management services for oil and gas clients. As the primary liaison between the client management teams and Haag Technical Services personnel, Ms. Deffenbaugh provides technical consulting services on a regular basis.
Any opinions expressed herein are those of the author(s) and do not necessarily reflect those of Haag Technical Services, Haag Engineering Co., Haag Education, or parent company, Haag Global, Inc.