Haag's January Newsletter- 95th Anniversary + Imperial Sugar Explosion

95 Years of Failure & Damage Analysis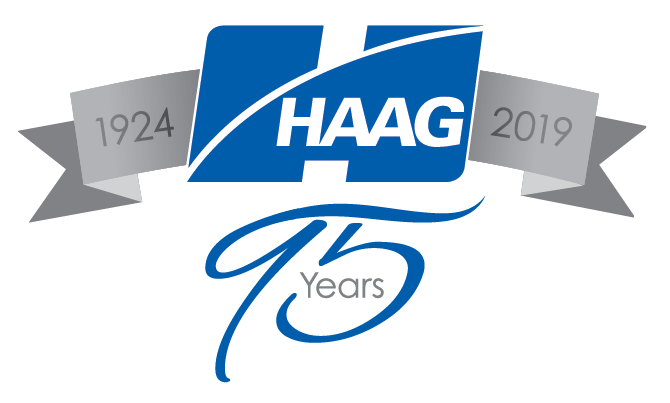 Way back in 1924, Walter G. Haag, a civil engineer who had graduated from Drexel Institute in Philadelphia in 1899, established his own consulting office in Dallas, Texas. He created Haag Engineering to determine facility values after losses (similar to the work Haag Construction Consulting performs today). Soon, clients began to ask Mr. Haag how the facilities were damaged. Thus, he began to perform engineering origin and cause evaluations. The term "forensic engineering" was not used back then. (In fact, Professional Engineer licensing wouldn't even start until 1937.)
Mr. Haag hired Charles Wayne Parish in 1946. Mr. Parish, a World War II veteran and engineer in the Air Force, assumed increasing responsibility in the company and purchased it from Mr. Haag during 1956. Under Mr. Parish's direction, Haag expanded its area of operation from North Texas to the world. He added Research & Testing capabilities in the early 1960s, which published a historic ice ball impacting study on wood roofing in 1963. Along the way, Haag Engineering has expanded to include Haag Construction Consulting, Haag Education, Haag Research & Testing, and Haag Technical Services.
As we celebrate Haag's 95th anniversary in 2019, we thought it would be fun to take a look back at a few of the many noteworthy projects completed by Haag staff. During each month in 2019, this blog will feature noteworthy projects, as selected by our senior staff. We are fortunate to have several employees still with Haag who started in the 1970s, and one—my predecessor as Haag's president & CEO, John Stewart (featured below)—who will be celebrating 50 years with Haag!
No company can endure, let alone prosper, for 95 years without talented, dedicated employees and loyal clients. Further, Haag would not have been able to prosper without a commitment to quality and integrity. As I like to say, we're not good because we are old, we are old because we're good. For turning 95, we still feel pretty spry!
Thank you to all the people who have contributed in any way to Haag's pending 95th anniversary. That includes clients of our services and products, current and past employees, and all those who have spread a good word about Haag.
—Justin Kestner, P.E., President & CEO of Haag Global
---
Imperial Sugar- Sugar Dust Explosion
by John D. Stewart, P.E., Principal Engineer Emeritus
Around 7:00 am on February 7, 2008, a massive explosion occurred in the center of the Savannah Foods/Imperial Sugar facility, destroying or extensively damaging all three sugar silos and the packaging buildings that surrounded the silos. Sugar dust was believed to have been ignited by operating machinery. Many buildings outside the center of the plant also was extensively damaged. Investigations by government agencies as well as private experts concluded that the event was caused by an explosion of sugar dust followed by a fire wherein the sugar in the silos and throughout the area burned. Tragically, 14 individuals were killed in the blast and some 40 others were burned or injured.
Savannah Foods in Port Wentworth, Georgia, was founded in 1915 by Benjamin Alexander Oxnard and Richard H. Sprague when they moved their entire sugar refining operation, including more than 300 employees and their families, from St. Mary's Parish in Louisiana to Port Wentworth. The refinery took in raw sugar and processed it into refined sugar and various other sugar products. The Savannah Sugar Refinery began melting sugar on July 7, 1917. In 1997, Imperial Sugar Corporation acquired Savannah Foods & Industries, Inc., which at the time was the second largest sugar refiner in the industry. Savannah Foods & Industries marketed its sugar under the Dixie Crystals® brand.
The Port Wentworth refinery included many large buildings, various tanks, and additional equipment for processing the sugar. Sugar was brought into the facility by ship and sent out by rail, truck, and ships. Among the facilities were three very large reinforced concrete silos located in the center of the packaging and storage area and used for storage of bulk refined sugar. These silos, constructed in 1935, were approximately 130 feet tall by 40 feet in diameter arranged in an east-west line and were capable of holding about 3 million pounds of sugar each. A large 4-story building to the north was the North Packaging Building. Another 4-story building to the south was the South Packaging Building. North and South Palletizing areas were to the west of the silos. The main refining and raw sugar storage facilities were east of the silos. Other buildings were south of the silo/packaging area.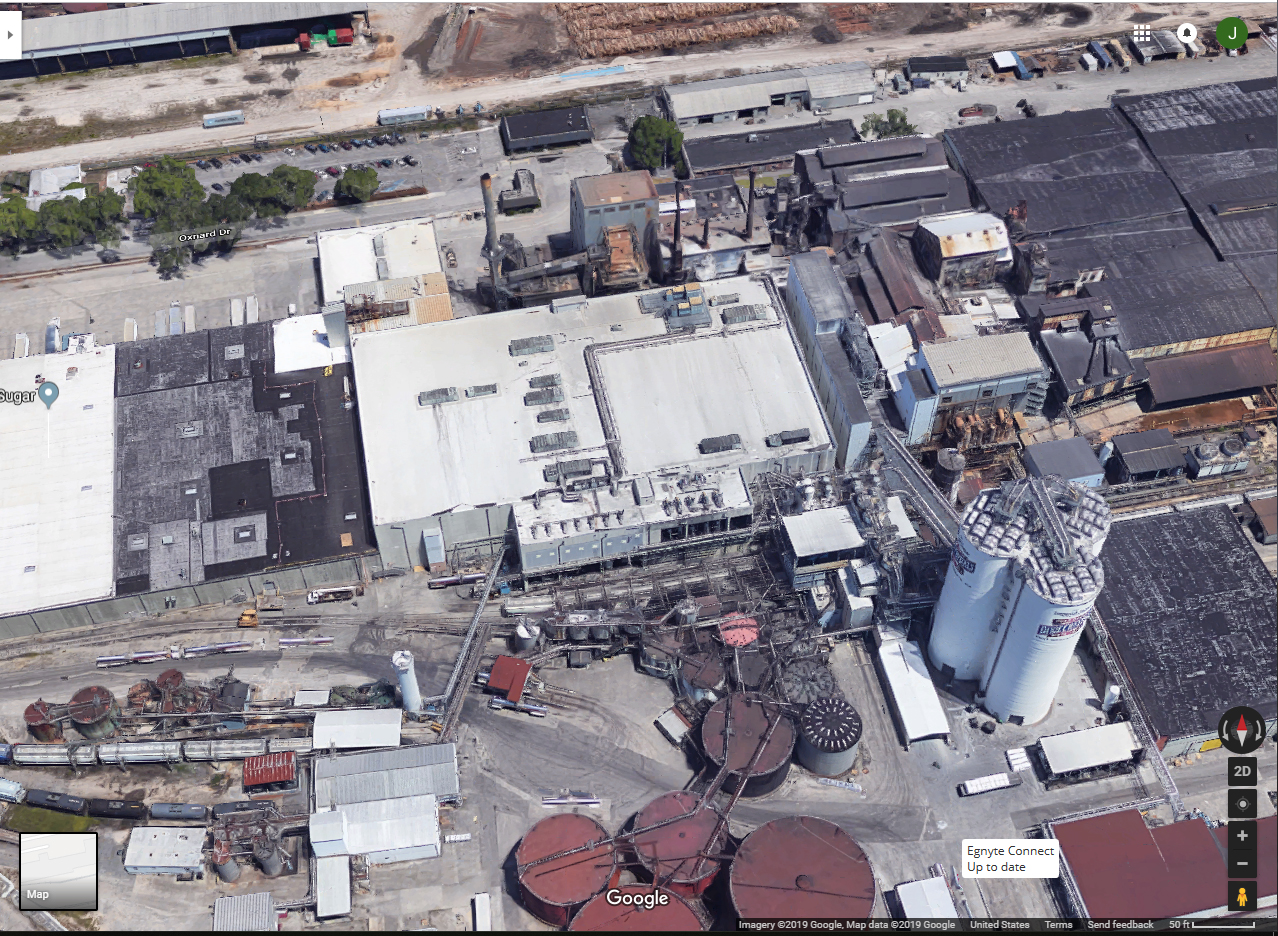 Above, a 2008 image after the explosion and a 2019 oblique image of the same area. The centers of both images cover most of the areas of major damage.
Following the February 2008 explosion, Haag engineers were engaged by the insurers to evaluate the scope of damage and cost of repairs to the facility resulting from the event. Haag also monitored the repair work during the several year period of restoration. Haag's role beyond evaluation of the scope of damage was to monitor and separate extensive upgrades of the rebuilt facility from needed repairs. The extensive upgrades of the facility took it from an old processing unit to a state-of-the-art processing and packaging plant.
Haag engineers were on site from shortly after the explosion until the repairs were completed and the plant restarted in late 2009. Haag was closely involved in the evaluation of the scope of damage. Knowing that the facility would be extensively modified during the restoration it was critical to prepare a detailed scope of work including estimates of repairs for facilities that would not be rebuilt in kind. Haag also was closely involved in all discussions about all changes, extensive upgrades, and reconfigurations of the facility to ensure that costs charged to the insurers of the facility were fair and represented the costs to restore an equivalent facility despite the many changes.
Ultimately, the loss cost insurers approx. $345 million out of total insurance coverage of $350 million. Total of physical damage and business interruption well exceeded $500 million.
---

John D. Stewart, P.E., is Principal Engineer Emeritus at Haag Engineering Co. and served as Haag's President for more than 30 years (1982 – 2014). Mr. Stewart has been with Haag Engineering Co. since 1969. His engineering expertise includes evaluating and determining the scope of damage and repair options following failures, including at industrial plants, oil refineries, chemical plants. He has analyzed electrical failures, lightning damage, and electronic and computer equipment failures.
Mr. Stewart graduated from the University of Texas at Arlington with a Bachelor of Science degree in Electrical Engineering. He is a licensed professional engineer in the states of Texas and Arizona, and a member of the Institute of Electrical and Electronic Engineers (IEEE), the American Institute of Chemical Engineers (AIChE), the National Fire Protection Association (NFPA), the International Association of Arson Investigators (IAAI), the National Society of Professional Engineers (NSPE), and the Texas Society of Professional Engineers.