Haag Education celebrates
10 years of
HCI-Commercial!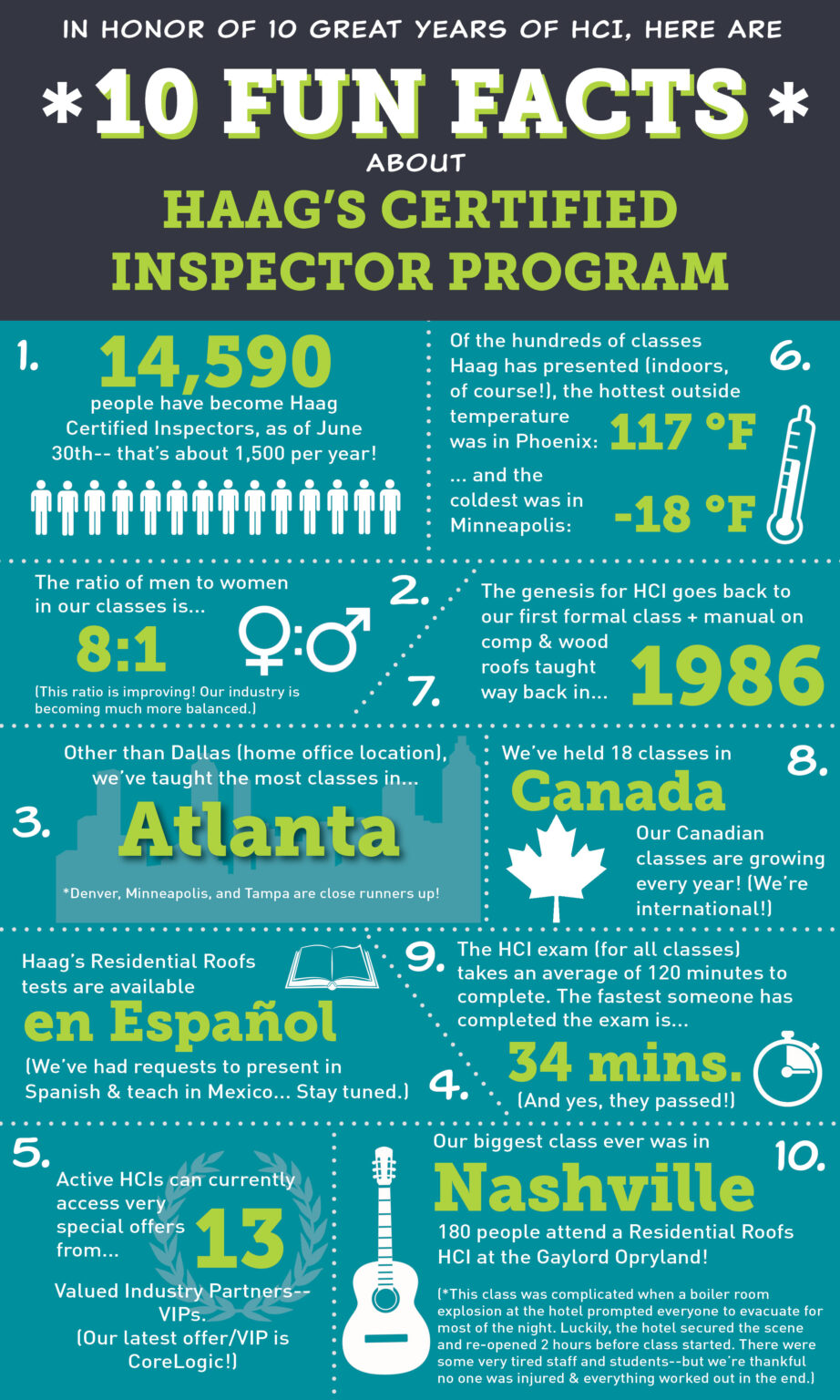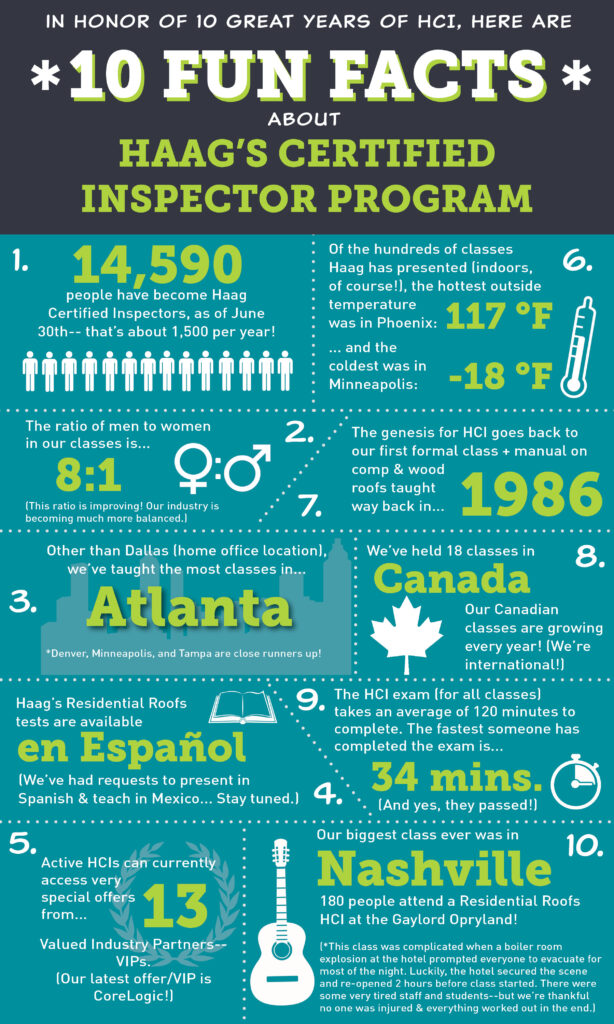 September marked the 10-year anniversary of the first HCI-Commercial program.  Over the last decade, thousands of industry professionals across North America have expanded their knowledge of damage assessment to commercial roofing systems.   The HCI-C program assists engineers, contractors, adjusters and consultants in becoming more confident, accurate, and confident damage assessors.  In 2018 Haag Education rolled out an updated "2.0" version of HCI-C including more interactive activities and a focus on current "hot topics" in the commercial roofing industry.  Additionally, we created a Canadian version of the course to make a course more relevant to our Canadian customers.
We'd like to thank every person and company that has supported the HCI program since 2007.
Eligibility for the HCI-C course requires 50 commercial roof inspections (damage estimates, claims, jobs – depending on your line of work) OR 3 years commercial lines adjusting experience.  The courses are presented year-around in locations all over the US and Canada.  Click link to visit our schedule of classes and register with our HCI-C anniversary discount code HCCTEN to save $300 through Nov 15, 2019.
*Discount applicable only to new registrations of HCI-Commercial course only.
---
Avoid getting tunnel vision during inspections
When conducting a roofing inspection, as with any job, it's possible to fall into ruts or develop habits that keep us from getting the correct or most accurate results.  It's also possible to reach the correct conclusion, but with supporting documentation which is lacking. Since not all roof inspections are the same, steps in the inspection process will vary based on the type of roof and reasons for conducting the inspection. However, there are aspects that should be considered in all inspections.
Before going out to conduct an inspection, it's important to do your homework.  This begins with understanding why you are being asked to inspect the roof.  If you are an insurance adjuster, somebody likely wants a claim to be paid–but why?  Is it being claimed that wind or hail damaged the roof?  Is a different cause of loss being claimed?  If you are a consultant or contractor, the reason for the inspection may be much broader.  Possibly, the roof has a leak and the building owner wants to know why.
Checking weather reports can help you know what to expect – Preliminary wind and hail reports can be obtained from the NOAA Storm Prediction Center website, while Final reports can be found on the NOAA National centers for Environmental Information website.  You can also consult private sources of weather information, which can help you understand the characteristics of specific storms. When considering weather data, it is important to know how those reports are produced and understand the limitations. For example, if the weather data is based solely on radar there are no reports that can accurately state what size hail actually fell at a specific location based on radar alone.  (See our March 2018 Blog Post "What Can Radar Tell Us About Hail")  It also never hurts to ask the building owner or local contact if any photos or videos were taken of the storm showing high winds or the size of hail at the location.
Plan your inspection by obtaining information about the building before going to the property location.  The local county tax appraisal district has information ranging from basic owner and appraised value of the building information, to details such as the year the building was constructed, the type of construction, history of ownership and, with commercial buildings, names of occupants.  Local jurisdictions may also have building permits on file.  Aerial images from the internet can show an inspector the relative size of a building and help assess the needed equipment for access to the roof.
Once you get to a location, don't limit yourself to just inspecting the roof.  Look for evidence of wind and hail in the area.  If you're doing an inspection soon after a storm, look for downed trees or fences.  This will help document not only the existence of highs winds, but also the direction.  Look for hail spatter marks on electrical boxes or fences.  Look for dents in A/C fins and cracks or dents around windows or other weaker materials. If the roof is leaking, inspect the interior of the building and map where the water stains are relative to the exterior walls.  This will help locate the source once you are on the roof.
When you get on the roof, don't get tunnel vision!  Look at everything.  Even if you were only asked to inspect for hail damage, look for other issues such as wind damage, manufacturing or weathering concerns or installation problems.  Look for patterns. Patterns are very important.  Hail damage will have a different pattern than manufacturing issues or mechanical damage.  Take close-up photos and overviews, and label those photos so that what you are documenting is clear.  Another great blog that discusses hail inspections in greater detail is "Hailstorm Data Sources and Hail Characteristics", April 2015 Blog Post.
Finally, remember that you may have only one chance to inspect a roof, so do it right the first time. Prepare for your inspection by finding out who is asking for the inspection and why, what does available weather data say about this property, and what do public records reveal about the property (local appraisal district, permit requests, aerial maps, etc.). Document all the issues you see, and also be sure to document what is not damaged. Gathering this information will help you avoid tunnel vision and write a thorough report with well-supported conclusions.
Jim Chaney – Director of Curriculum, Senior Instructor
---