UTILIZING VIRTUAL TOURS IN DAMAGE ASSESSMENT
By Kevin Kianka, P.E.
If "a picture is worth 1,000 words," how valuable is the capability to place yourself within an image and pan around?  Or even zoom in?
I call it the "Google Street View effect":  the desire of tech-savvy users to control their own movements within images and videos that have been taken elsewhere, by someone else.  Though Google's Street View service is perhaps the most well-known use of this type of technology and has been available for almost eight years, panoramic virtual tours have been utilized in the real estate industry for nearly twice as long.  Now a new wave of users in the damage assessment industry are finding that virtual tours can be extremely useful during inspection and construction.  Utilizing specialized cameras, lenses and software, photographers can create 360° spherical imagery of a specific location, allowing other viewers to become virtual on-site witnesses.
What Type of Equipment is Needed?
Haag has used spherical photography and virtual tours for over three years on a variety of projects, including damage assessments, incident documentation, construction monitoring, and historical documentation and recordation, just to name a few.  The process involves image acquisition, photo stitching/merging, and tour creation.  Hardware includes a standard DSLR camera and photographic tripod, a fisheye lens, and spherical camera mount.
The camera tripod is set and a series of photographs are taken (typically 6) utilizing the camera mount.  The spherical camera mount has settings that ensures that there is a 360° horizontal coverage, creating the spherical image.  (Some specially-designed cameras can even take a 360° image without any manual effort.)  The camera system is then moved to the next desired location and the process repeated until all desired locations are documented.  Typical setup locations include any key Points of View (or POV, see Fig. 1), witness locations, areas where damage is present, and areas that show inconsistencies in construction or manufacture (or anything out of the ordinary for a scene).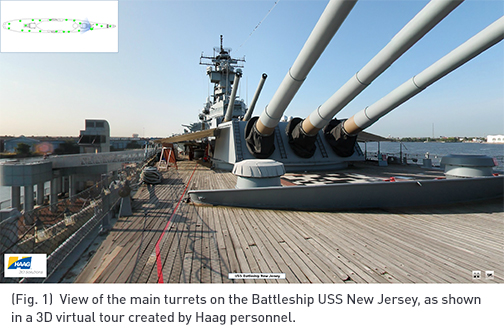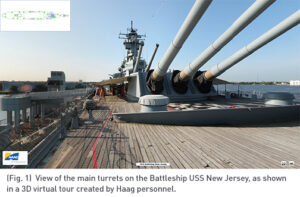 Later, back in the office, users stitch the six individual images together, creating a final spherical image for every noted setup location.  Tours can then be  created utilizing specialized software which combines the multiple spherical images into a single file.  This file can be linked to a map with a "radar" showing the POV of the camera, along with links to all the photographs, videos and PDFs used within each spherical image.  (The map is typically created to allow the tour users to have a point of reference in the context of the whole scene.)
The end product can be delivered as a self-executable file (EXE), or it may be loaded onto a website or mobile device, among other formats.  Key information can be placed within the virtual tour, including still photographs, field notes, videos, links to OSHA standards or websites, or other applicable documentation.  The resulting product allows persons never on a site to "be there" with the photographer.  They can see "first-hand" notable conditions and, crucially, view a photograph within the surrounding context while controlling their movements in the virtual space.
See a 3D Tour in Action
Check out an example of a virtual tour here.  In this short video of a 3D Tour created by Haag personnel, you'll be able to see how easily a viewer can maneuver through a Virtual Tour of the Battleship USS New Jersey.

Kevin Kianka, P.E., Director of Haag BIM/Modeling Program, 07/2015
Kevin Kianka, P.E., serves as the Director of BIM/Modeling Program for Haag Technical Services, overseeing the office production of deliverables for clients, in addition to serving as a Project Manager on multiple projects. He recently spearheaded the effort to petition for and obtain Haag's FAA Section 333 Exemption. See his profile and contact information here.