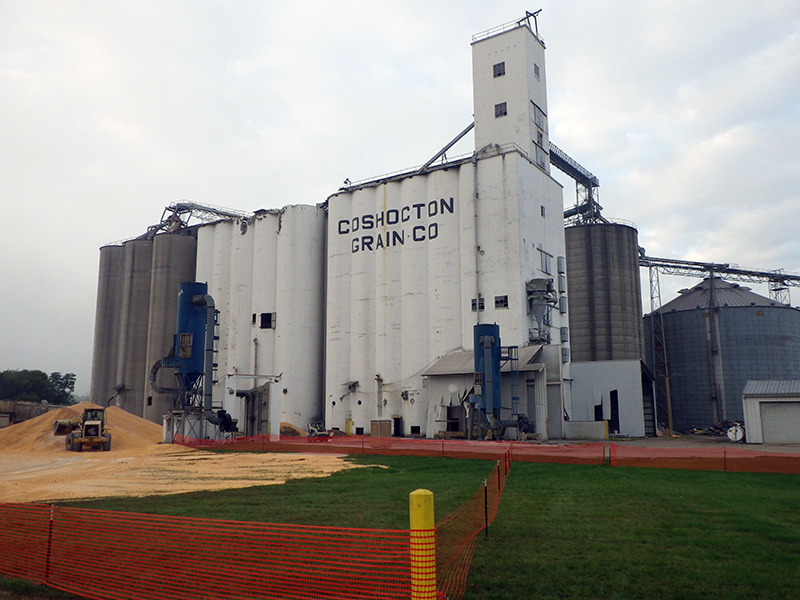 As we celebrate Haag's 95th anniversary in 2019, we are looking back at some of the noteworthy and important projects Haag Engineers and Consultants have been involved with over the last 95 years. Each month in 2019, this blog will feature one unique, important project, as selected by our senior staff. 
Grain Explosion Evaluation: Coshocton Grain Company
By John Z. Wlascinski, P.E., Principal Engineer
On August 13, 2014, a large grain dust explosion occurred at the Coshocton Grain Company facility in Coshocton, Ohio. The explosion severely damaged three connected silos and injured six workers. Employees were loading rail cars when the explosion happened around 4 pm, and sections of the bins toppled onto the rail cars.(1)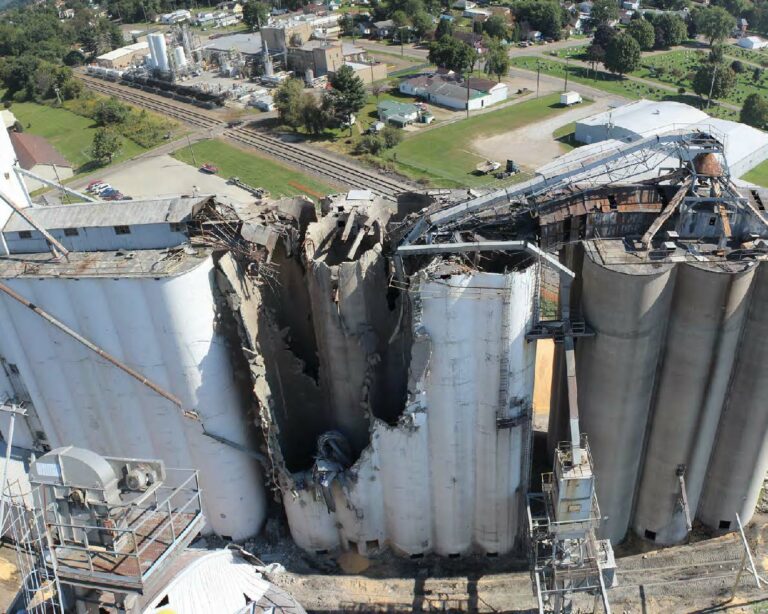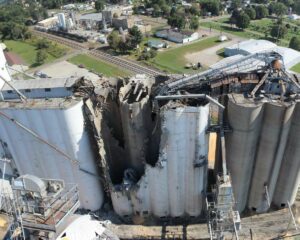 The 60-year-old Coshocton Grain facility was a 2.5-million-bushel capacity grain receiving, drying, and storage facility that included three slip-formed concrete storage houses standing more than 100 feet above grade at the bin deck. A single gallery spanned across all three houses; two of the houses had head houses. A tunnel network connected all three grain houses in the basement, and one of the houses to a truck dump building and to several silos across railroad tracks to the south. South of the railroad tracks were five additional concrete silos, four steel storage bins, and several small buildings.
Seven bucket elevators, 12 drag conveyors, 11 belt conveyors, two screw augers, and one tripper directed the flow of grain throughout the facility. In general, the equipment in the basement and ground-level directed flow of grain away from the dumps and bins, and to the boots of the elevators. Elevated equipment directed flow away from the elevator legs to the various silos, bins, dryers, and load out areas of the facility. There were also three dust collectors, a dryer, a truck scale, and a continuous flow scale.
Haag Engineers responded to determine the origin and cause of the explosion, which included coordinating with OSHA representatives and salvage efforts.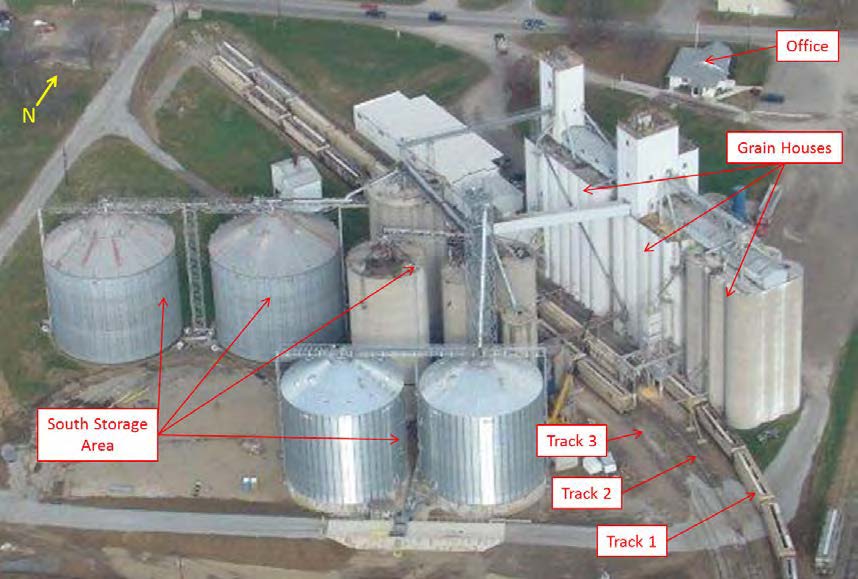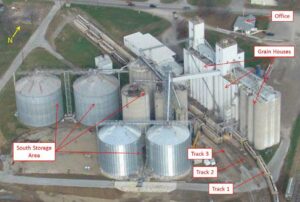 The explosion caused a large area of the middle house to blowout and the head house to fall to the ground and damage several railcars and railroad tracks. Haag's original scope expanded to include documentation of the explosion site using 360° photography and scanning (3D laser scanning), evaluation of structural and mechanical damage caused by the explosion, and a cost estimate of the explosion-related damage. Collectively, this project began as an explosion origin and cause determination and expanded to include four different Haag services and seven Haag personnel.
---

John Z. Wlascinski, PE, CFEI, CVFI, is the Board Chairman, Houston Engineering Branch Manager, and Forensic Engineer with Haag Engineering Co. Mr. Wlascinski has been an integral part of the engineering team in Houston since 1993. He specializes specializing in mechanical failures of industrial and commercial machinery, fire suppression systems and components, piping systems and components, and oil field equipment. He has also specialized in HVAC system evaluation, fire/explosion origin and cause determination, and vehicle accident reconstruction. Prior to joining Haag, Mr. Wlascinski owned and operated two successful businesses: an automotive and heavy equipment repair company, and an underground utilities service company. Mr. Wlascinski is a licensed P.E. in 29 states, plus Washington D.C. and Puerto Rico. Mr. Wlascinski is an NAFI Certified Fire and Explosion Investigator, NAFI Certified Vehicle Fire Investigator, and a Certified Infrared Thermographer Level I. He earned his Mechanical Engineering degree from The University of Texas at Austin.
Any opinions expressed herein are those of the author(s) and do not necessarily reflect those of Haag Engineering Co., Haag Construction Consulting, Haag Education, or parent company, Haag Global, Inc.