ASTM Wind Test on Concrete Roof Tiles
The subject property was an apartment complex in Florida. Roofs were covered with Spanish-profile, concrete roof tiles. Concerns were raised regarding wind-caused damage to the roof tiles and specifically, what minimum wind speed could potentially displace the tiles. An inspection of the roofs was conducted by an outside roof consultant (non-Haag).
The client provided exemplar roofing tiles to our laboratory and detailed the tile installation at the site. Tiles were installed atop plywood roof decking, supported by wood battens, and mechanically attached with 2-1/2 inch long screws. Test panels were constructed, and tiles were installed to replicate tile installation at the property.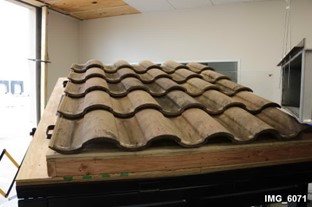 Tiles were tested in substantial conformance with ASTM D3161 – Standard Test Method for Wind Resistance of Steep Slope Roofing Products (Fan-Induced Method). Test panel configurations were modified as permitted by ASTM D3161 to develop additional information, including variations in slope angle, orientation to the wind stream, and fastened condition. A summary of test configurations is provided in Table 1.
Table 1: Tile Test Configurations

Fasteners

Test No.

Deck Slope

Orientation to Wind
Stream (degrees)

Field

Top Course

1

2:12

0

A

B

2

4:12

0

A

B

3

4:12

30

A

B

4

4:12

60

A

B

5

4:12

0

C

B

A

one screw with 1/4-inch stand-off

B

one screw flush with tile surface

C

no fasteners in field, bottom course left with condition A
Our wind generator was programmed to ramp to 40 miles per hour (mph) in 60 seconds, then linearly ramp to 170 mph over 390 seconds (6-1/2 minutes), giving an average ramp speed of 10 mph every 30 seconds after the initial 60 second ramp. The wind generator program was manually terminated if/when a failure condition was reached. Tests were recorded using three video cameras in the test room, including an overhead view, a side view, and an angular view, to visually document the effects the wind stream had on the tiles. Wind speed in miles per hour (mph) was superimposed on the video stream providing a real-time correlation between wind speed and test conditions.
Table 2: Test Results

 

Wind Speed at Critical Moments (mph)

 

Test No.

First Tile Movement

Field Tile Lift

Field Tile Displacement

Lift-to-Displacement Differential (mph)

1

143

145

 

145

0

2

141

147

 

147

0

3

137

145

 

158

13

4

131

144

 

149A

5

5

124

138

 

139

1

Note A:

Tiles lift, shift, and hold, but do not separate from deck at max speed





Testing demonstrated tiles installed in the same manner as they were at the subject property could be displaced by wind speeds of 147 mph and unfastened field tiles could be displaced by wind speeds of 139 mph. Testing also showed wind approaching from different angles (offset by 30 degrees and 60 degrees) would have minimal effect on tile performance, requiring slightly higher wind speeds to displace tiles. Importantly, testing also showed that wind speed sufficient to barely lift the tiles would rapidly displace the tiles. This is due to the aerodynamics changing as air is allowed to impinge on the bottom of tile surfaces once lifting occurs.