Solar panel testing
Solar power generation has gained popularity in recent years. These days, solar panels seem to be everywhere. According to the Energy Information Administration, U.S. developers plan to add 54.5 gigawatts (GW) of new electric generating capacity in 2023, with more than half being powered by solar energy.1
We see solar panels attached to residential and commercial roofs, road signs, electric vehicle charging stations, billboards, weather stations, pump houses, and of course, large arrays at solar farms. Sometimes solar panels are small and provide electrical energy to power a single component, whereas solar farms can have 1,000s of panels mounted together to supply power to our electric grid. One thing all solar panels have in common…they can be struck by hail.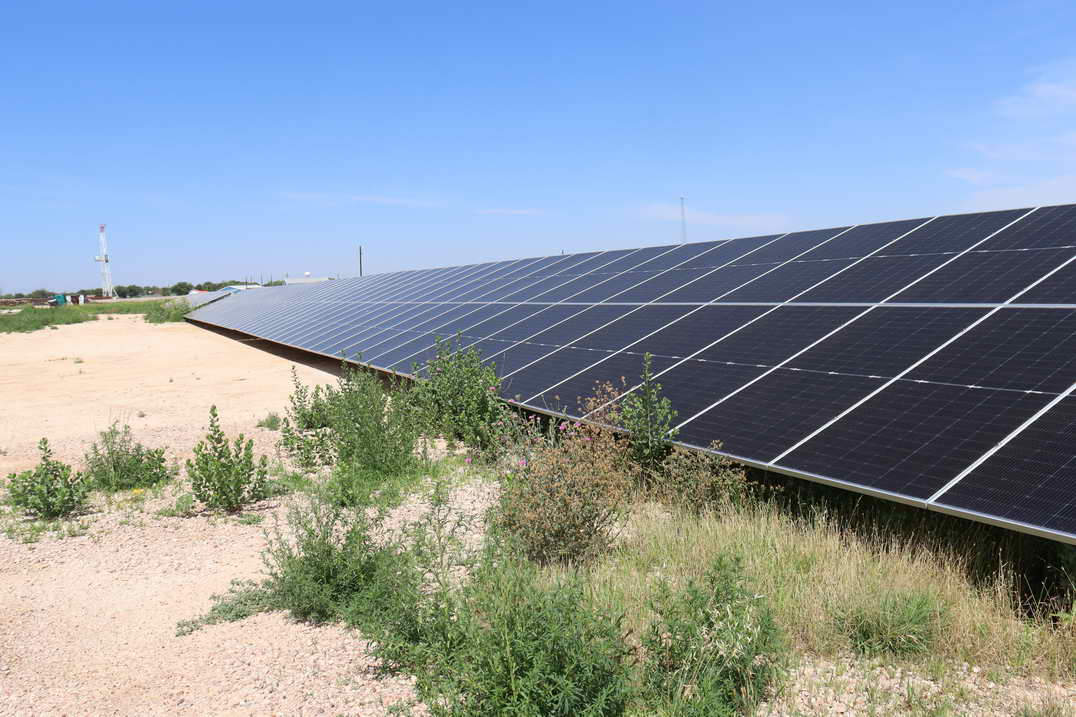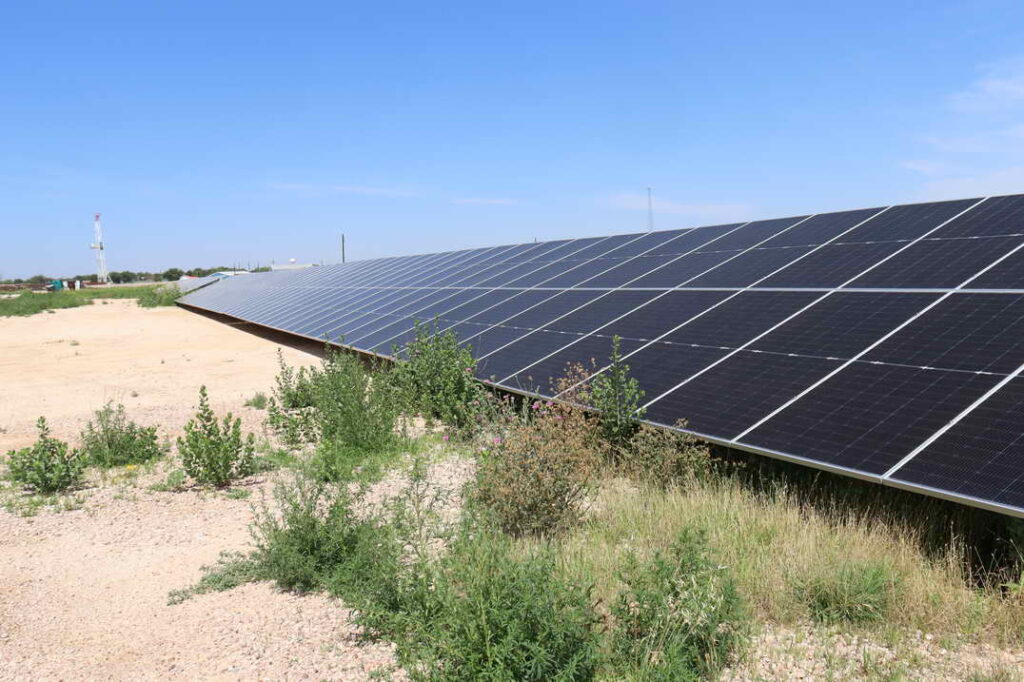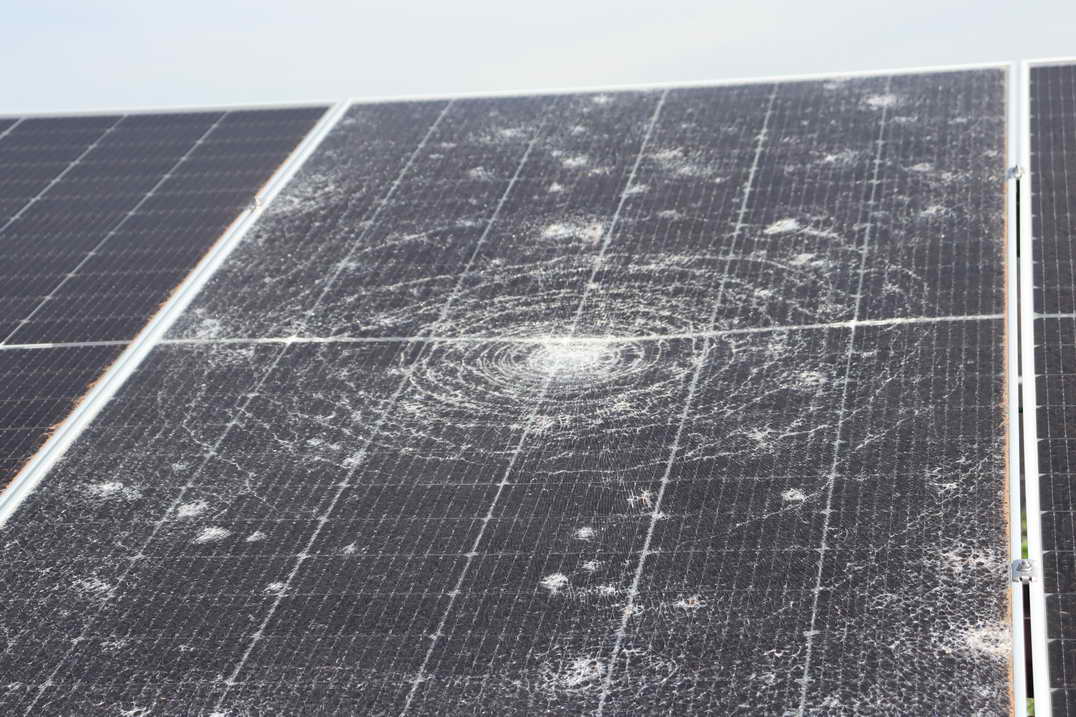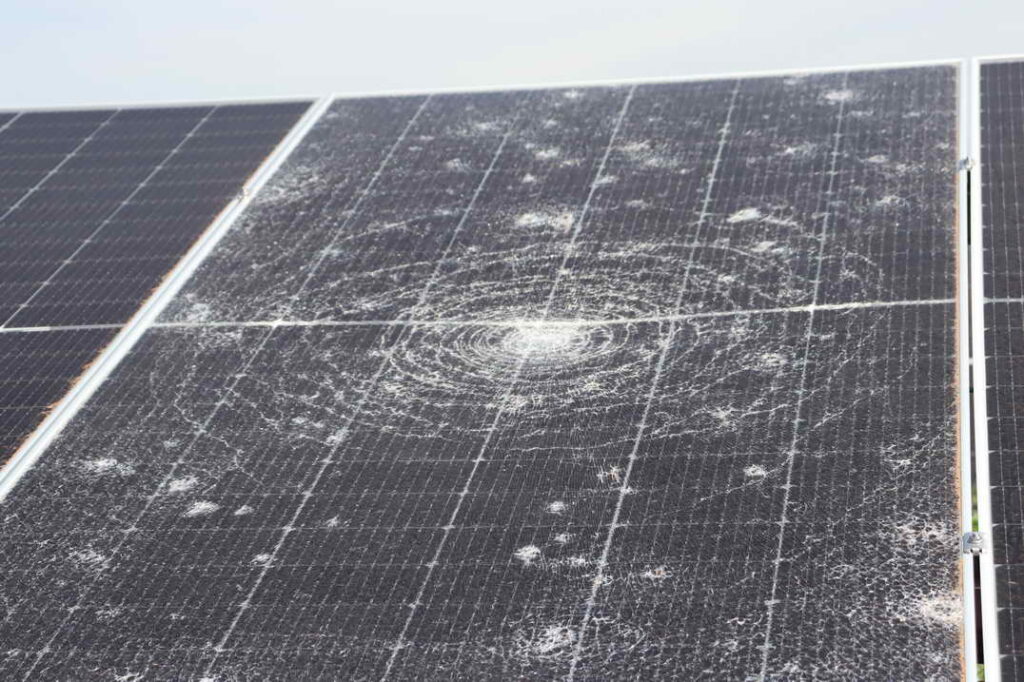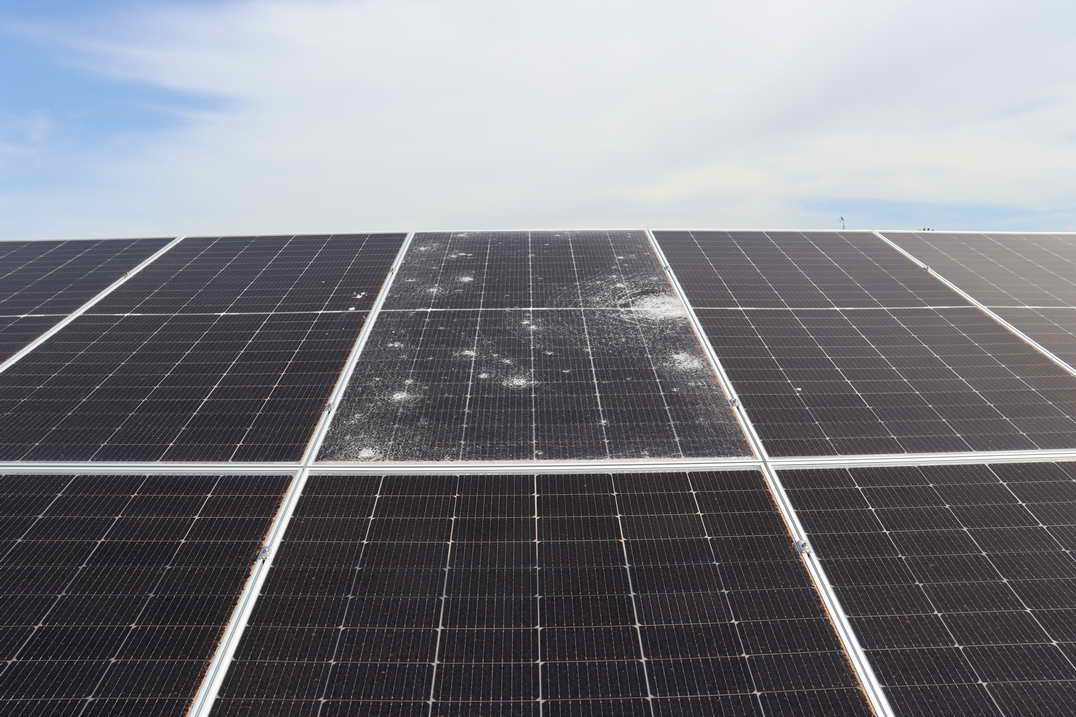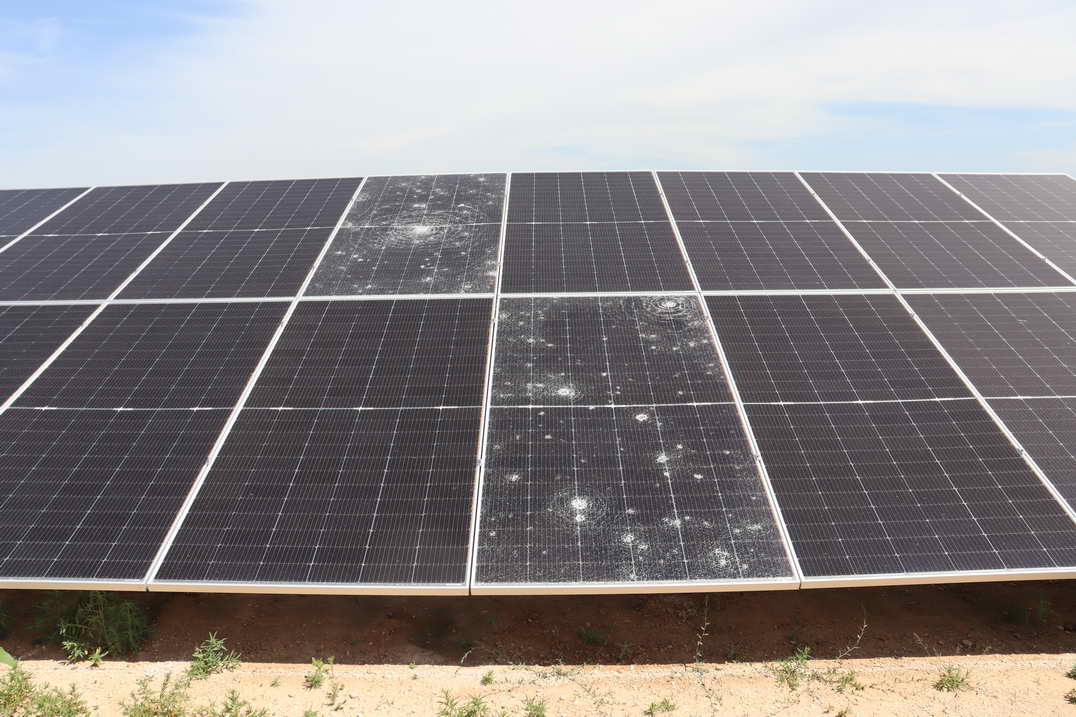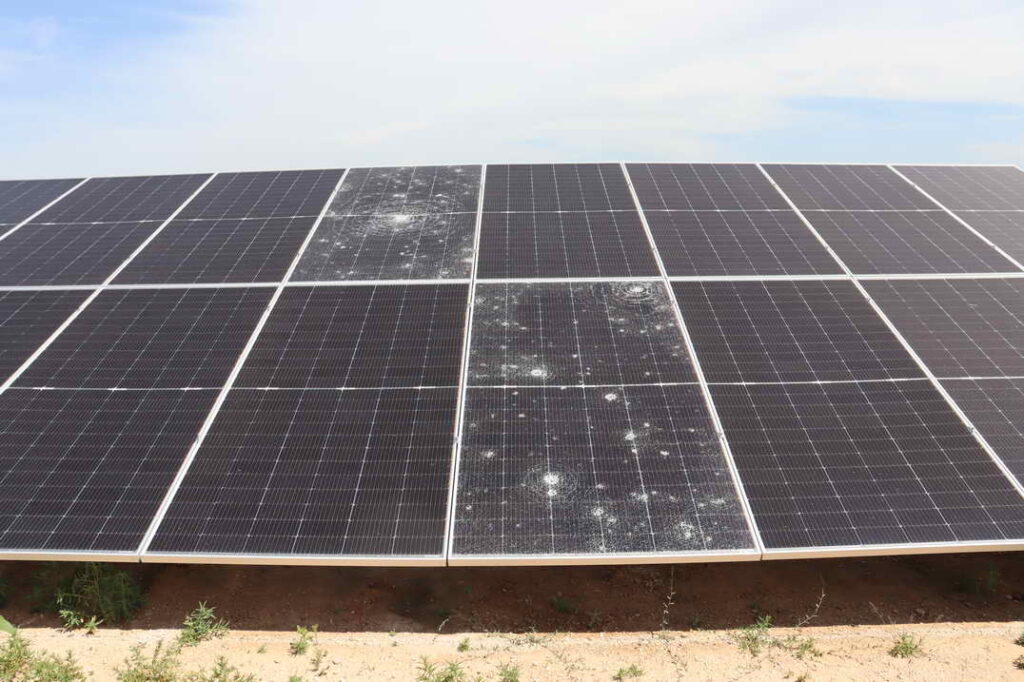 With all the solar power in use today, and with an increasing number of solar panels in hot sunny climates such as the southwestern United States, it is inevitable that more solar panels are going to be struck by hail each year. There has been an enormous amount of research into the minimum size of hail able to damage roof coverings, but information on hail-caused damage to solar panels is somewhat limited.
Haag Research & Testing (HRT) is working to change that. HRT is constantly looking for testing protocols that can add to our forensic testing ability and the knowledgebase of our industry. The Haag laboratory has recently added several test methods to our list of accredited test standards. Two of these test standards address hail impact performance of solar panels. HRT is now accredited to perform Factory Mutual (FM) 4478 – Appendix E, and IEC 61215-2 (MQT 17). Both of these standards are followed to provide impact ratings for solar panels and the procedures can be adapted for forensic use to determine what minimum size of hail can damage solar panels.
Haag engineers can inspect solar panels for hail-caused damage and offer opinions regarding the extent of damage and repairability concerns. Our laboratory can perform simulated hail impact testing on solar panels either removed from an inspected property or new panels acquired from distributors. Our unique ability not only to perform post hail inspections, but also perform simulated hail impact testing is what sets Haag apart from others in our industry, not only for roofing damage assessment, but for damage assessment of other items, including building components, cladding, vehicles, and yes, even solar panels.   
Questions about solar panel testing or solar panel damage assessment? Please contact Haag here or call us at 800-527-0168 with questions.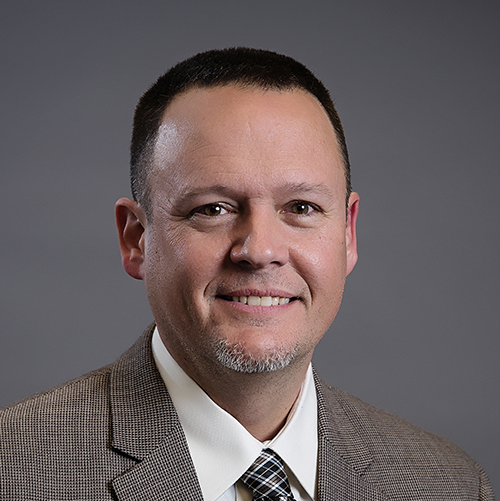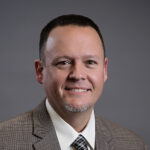 Steve Smith, P.E., Director of Research & Testing, Principal Engineer
Steven R. Smith is a Forensic Engineer with Haag Engineering Co., and the Director of Research & Testing. Mr. Smith is an experienced forensic engineer who began his career with Haag more than 24 years ago. He spent seven years working as a Senior Lab Technician while earning a Bachelor of Science in Mechanical Engineering degree from The University of Texas at Arlington. He has been involved with the lab throughout his career, and has been able to leverage his extensive and practical engineering field experience with research and testing projects.
Mr. Smith's areas of expertise include accident reconstruction, mechanical equipment evaluations, code and standards compliance, roofing system evaluations, and fires and explosions. He is a licensed Professional Engineer in Arkansas, Minnesota, Missouri, Oklahoma, Texas, and Wisconsin. He is a member of the American Society of Mechanical Engineers (ASME), Society of Automotive Engineers (SAE), and Pi Tau Sigma National Honor Society. Prior to joining Haag, Mr. Smith was a Petty Officer Second Class in the United States Navy. He trained at the Navy Nuclear Power Training Command Center in Orlando Florida and was stationed on the USS Arkansas (CGN-41), where he maintained reactor and steam plant chemistry, performed radiological controls, and operated mechanical equipment in the propulsion plant.
Any opinions expressed herein are those of the author(s) and do not necessarily reflect those of Haag Technical Services, Haag Engineering Co., Haag Education, or parent company, Haag Global, Inc.