Drones for Façade Inspections
Drones have changed our world in a myriad of ways. For engineers and façade professionals, drones have altered how they evaluate building facades, minimizing time and expense in the field and allowing more time for study and evaluation. Typically, a drone can capture detailed photos and videos of a multi-story tower façade in less than an 8-hour day.     
Advantages of drones for façade inspections
First and foremost, using drones for façade inspections saves time and money. Pre-drones, inspections required equipment ranging from a ladder to an aerial lift or even scaffolding. Depending upon the height of the building, inspection could take several hours to several days. Drones allow experts to conduct a visual to inspection  either while the drone is in flight or soon after, while viewing the photographs or videos. Once review of the photographs is completed, the expert can decide whether a hands-on inspection is required or if the photographs provide enough detail to make a determination.  
Safety is another advantage to drones. During any aerial operation on either scaffolding or in an aerial lift, the experts performing the inspection will typically need some sort of training, in addition the appropriate PPE. These aerial operations come with a variety of potential safety hazards including contact with live wires, falls from heights, top overs/collapses, objects falling from lifts, and many more. 
Drones can produce highly detailed photographs and videos. Many drones on the market today have cameras capable of taking 20MP or better still shots and 4k or better videos. In addition, most drone cameras contain gimbals (stabilizers) allowing vertical from -90° (straight down) to 20° (above horizontal), allowing the camera to get angles looking down and up on the façade.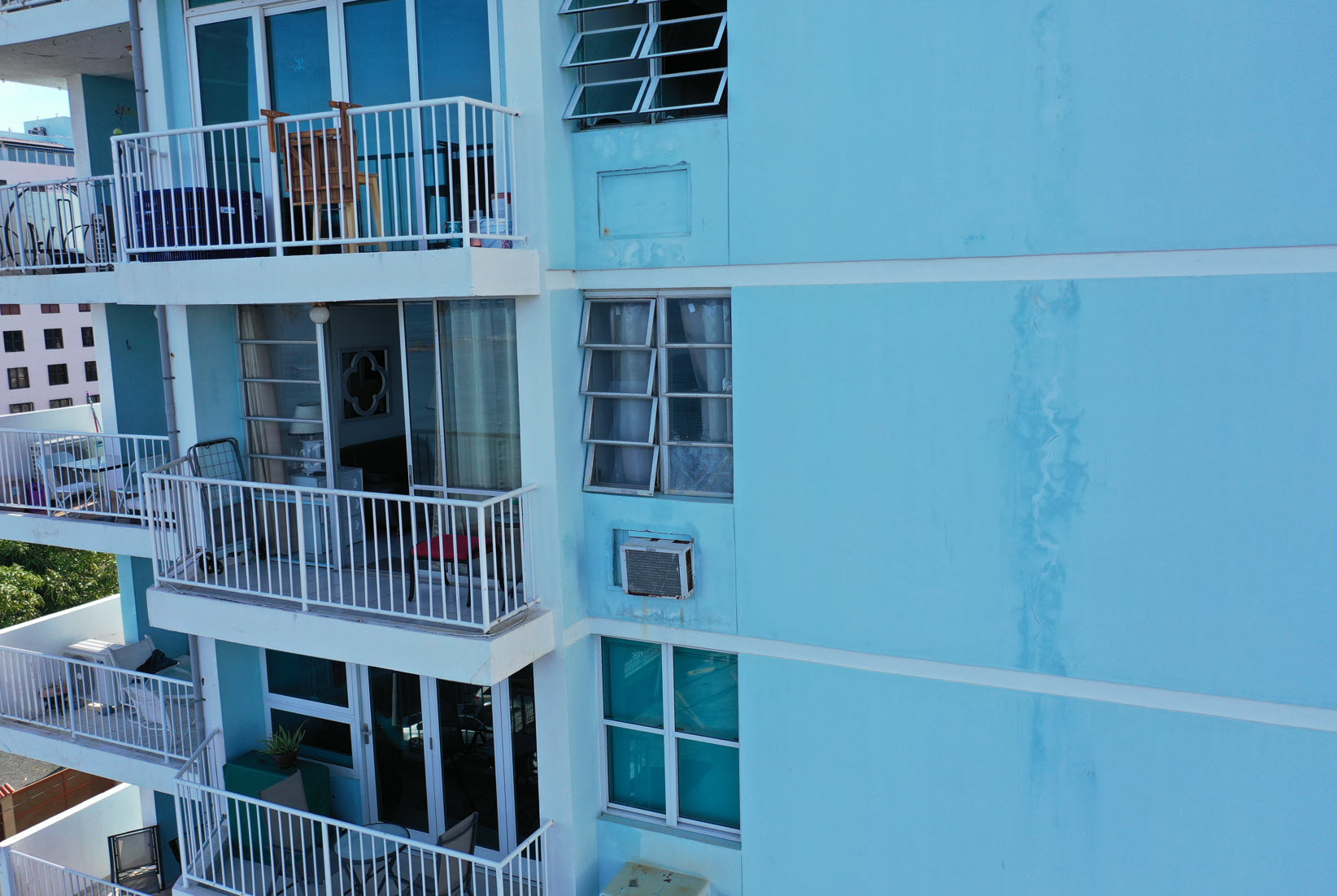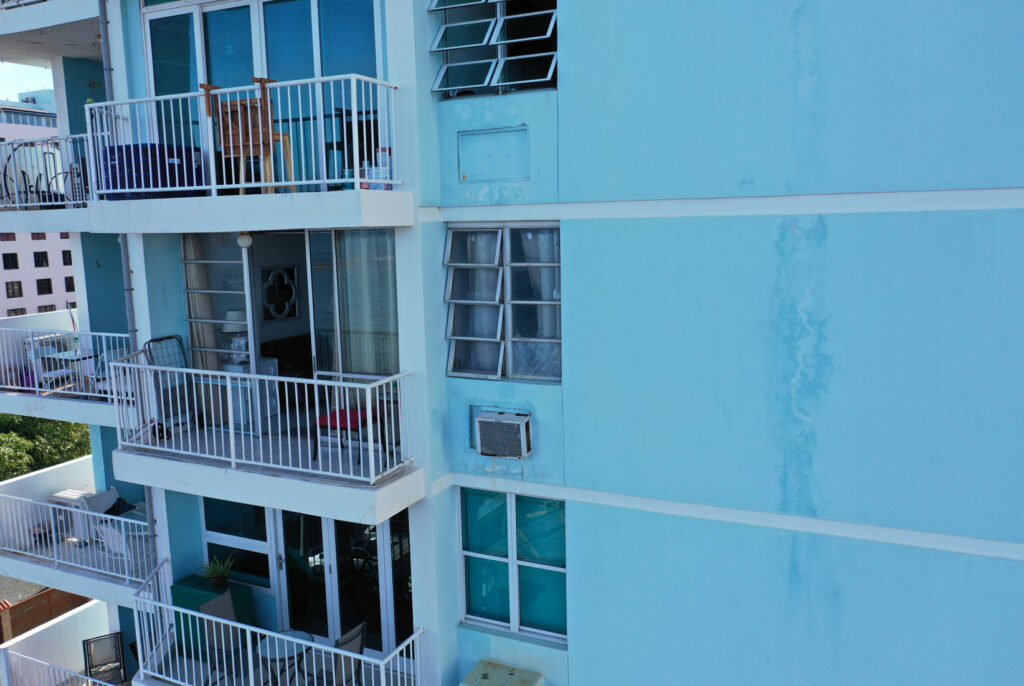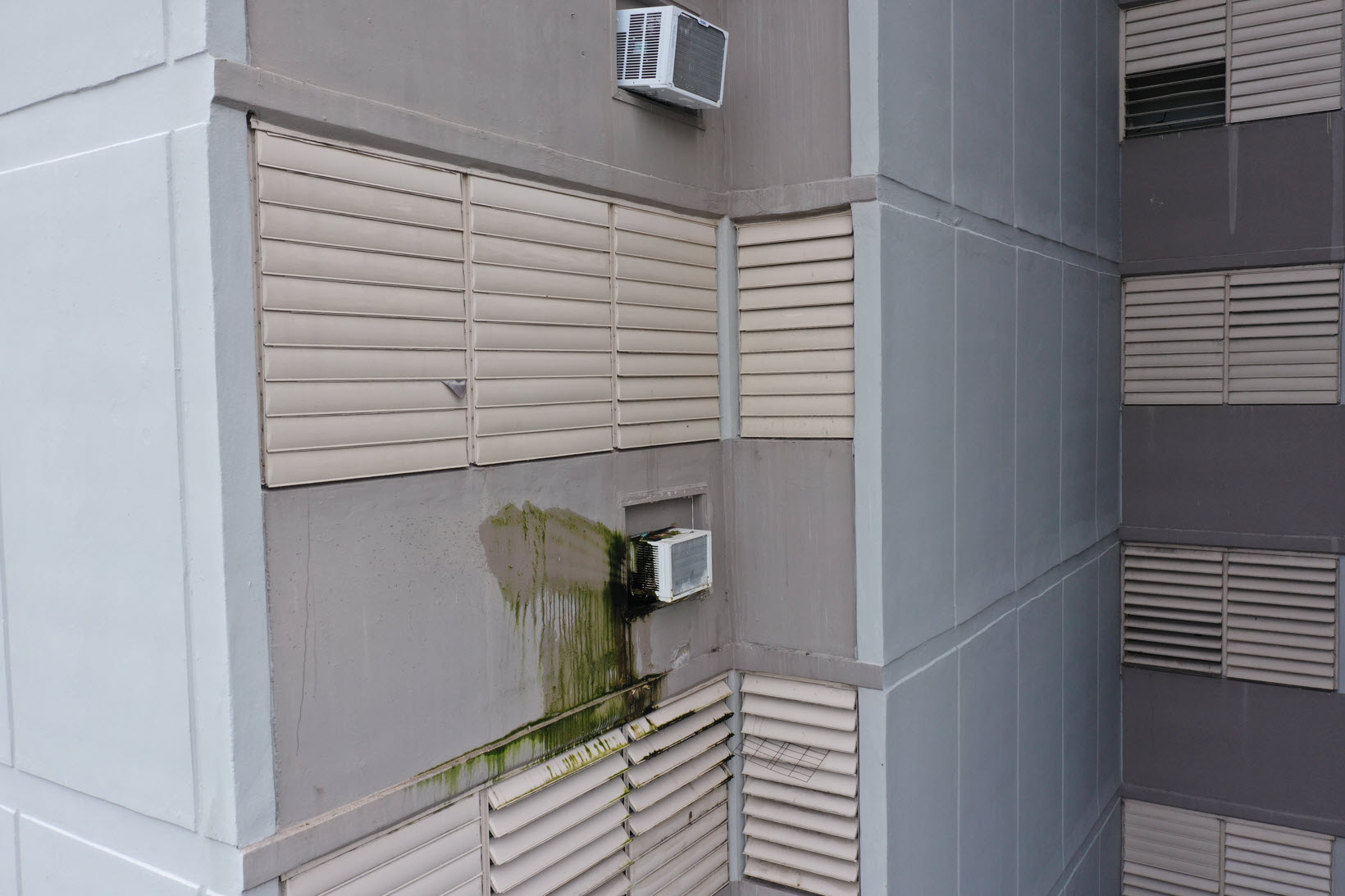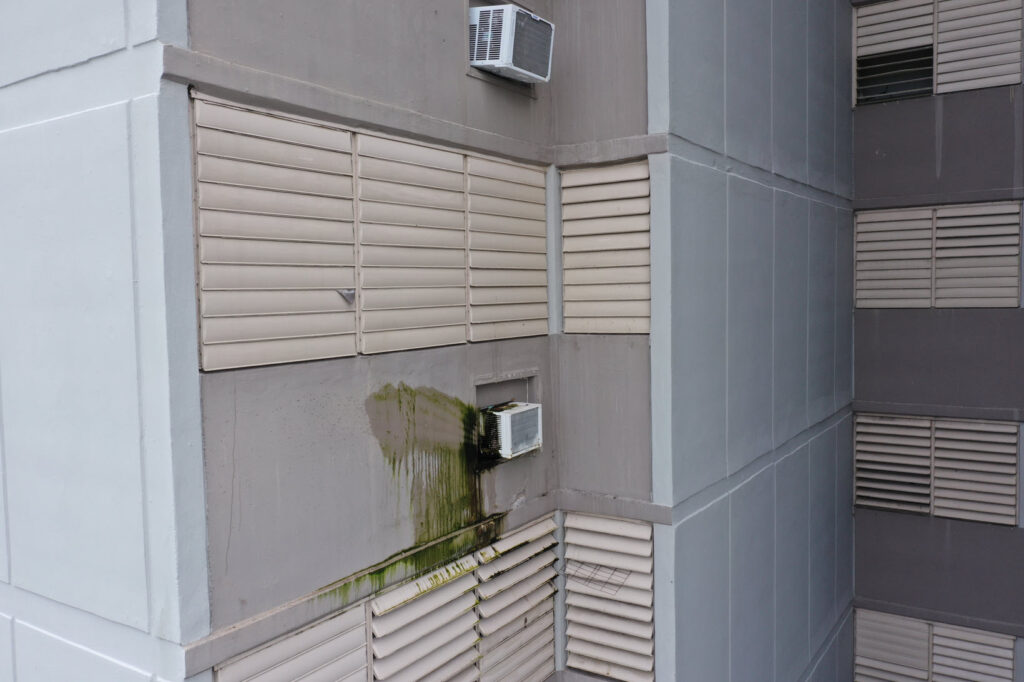 Using Drones on Façade Inspections
Drones have many limitations, including where and at which altitude they can fly. The FAA publishes near-real time airspace authorizations on the UAS Facility Maps website. This provides maximum altitudes around airports where the FAA may authorize Part 107 operations and still requires the pilot to request a waiver to fly in these areas. Additionally, there are limitations about flying over people and moving vehicles, so the areas around the structure may have limited access.
Resident notifications: People can be easily spooked by drones, so it is imperative that the building management provide proper notification to residents and tenants of the structure(s).
Weather conditions: Wind can always have an impact on drones, but this is especially important on multi-story structures. Wind speed tends to increase with height above the ground. As wind hits the side of a building, it has nowhere else to go and is pushed, up, down, and around the sides. These wind forces can cause instability in drones if not properly managed.
"Using High Quality 4k drones on our inspections has been an extremely valuable tool for Haag during inspections. The ability to see tower facades and their roofs from a higher perspective enables us to evaluate from different angles, and helps us feel confident when determining causation. Over the past 6 years, the use of 4k Drones to inspect high density towers has changed the way inspections are performed", said Brandon Alaniz, Principal Consultant with Haag Construction Consulting. "We now have the acute ability to review surfaces at higher elevation to assist us with determining a final scope of repair for our clients. The camera resolutions have the capability for us to review surfaces at a granular level from hundreds of feet in the air. These drones tell us a story from an overall perspective. It's enabled us to provide wonderfully detailed presentations for our clients. We believe as the technology continues to develop, drones will become part of the standard operating procedures for all assignments."
Key Considerations
Flight Regulations: Follow FAA and company policies and procedures. Obtain waivers where necessary.
Resident/Tenant Notifications: Require management to provide notifications
Flight area walkaround: Typical with any flight, but especially on multi-story buildings it is imperative to know that area you will be flying in locating trees, utility lines, other structures, building appurtenances, balconies, and other features that could impact your flight.
Securing area under the drone: In most cases, the FAA prohibits drones from flying directly over people. It is critical to work with your visual observer to secure an area under the drone, as it moves along the façade to ensure compliance with this requirement.
Weather considerations: Wind speeds, not only at ground level, but at or near the building's rooftop.
Aviation Insurance: Drones, since they are FAA registered aircraft, are typically not covered under most insurance policies and need separate aviation insurance.
Battery management: Depending upon the size of the building, going through multiple batteries is a possibility. This requires the pilot to have multiple batteries and chargers, in addition to finding adequate power supply on or around the site.
Pilot management: Looking up at the drone or down at the screen for an extended period of time can cause fatigue. Establishing a procedure for pilot management (Fly through 2 batteries and take a 30-minute break) is key
Visual Observer: A visual observer is critical to give the pilot a second set of eyes on the drone in the event of wind bursts that could shift the drone towards the building or other structures or in the event pedestrians enter the area adjacent to the drone.
For more information about drones and façade inspections, please reach out to Kevin Kianka, Operations Manager, Technical Services, or Brandon Alaniz, Principal Construction Consultant.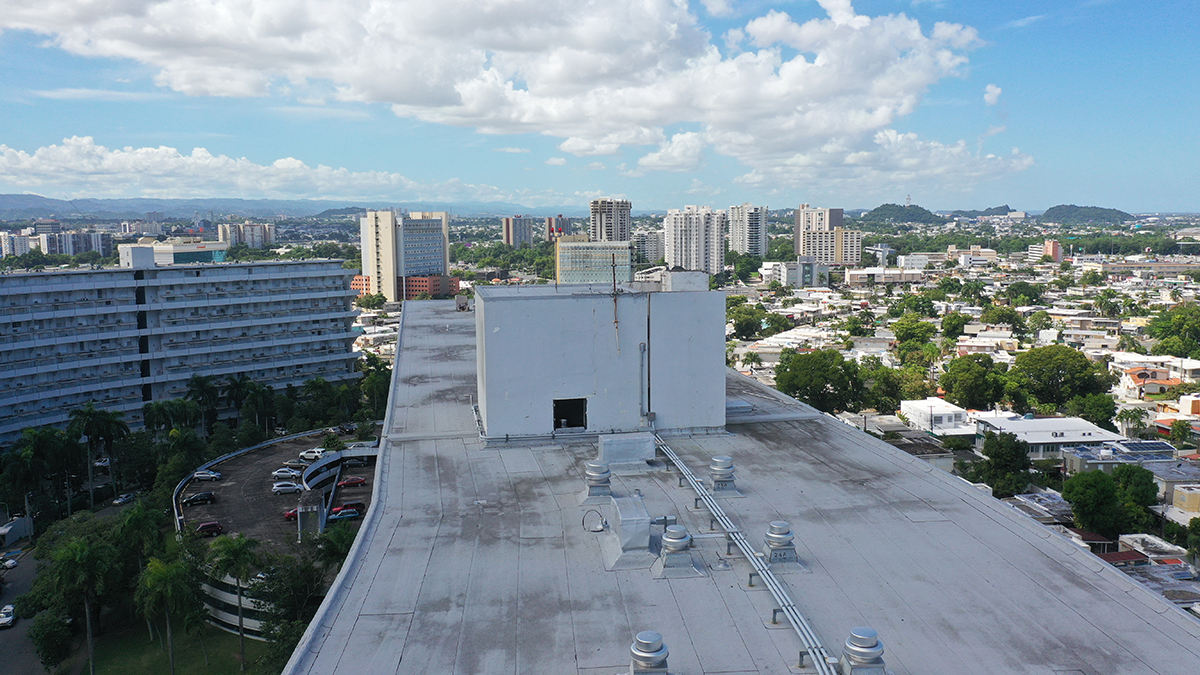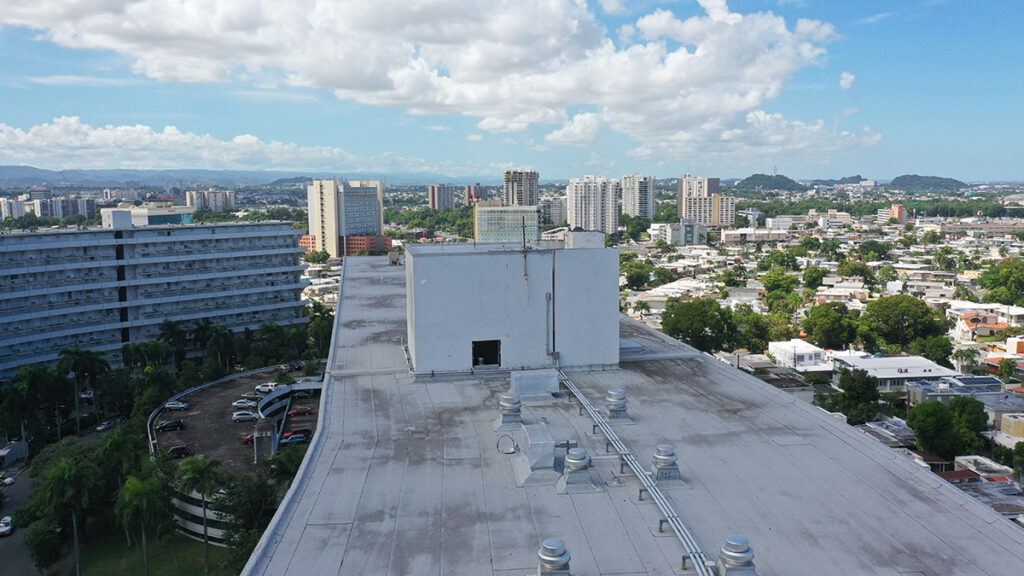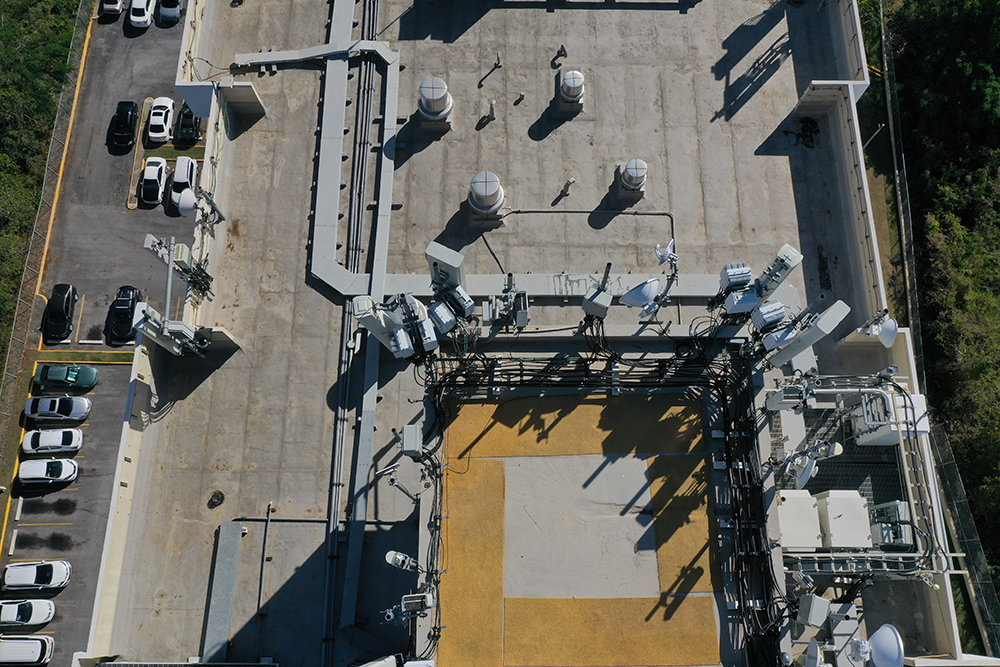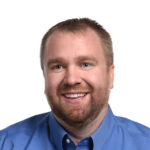 Kevin Kianka, P.E., DIRECTOR OF Operations, Technical Services
Kevin Kianka, P.E., serves the Director of Operations, based in Haag's Sugar Land (Houston), TX office and leading Haag Technical Services efforts nationwide, including all services related to 3D Laser Scanning, 3D Modeling, Drones (sUAV's), GIS, and other advanced technologies.
A licensed Professional Engineer in Texas, New Mexico, Colorado, New Jersey, New York, Pennsylvania and Florida, Mr. Kianka obtained a Bachelor of Science in Civil Engineering from Drexel University (Philadelphia, PA) and has over 15 years of experience in the field of Engineering.  His work has included bridge and structural design, NBIS (Bridge) inspections, highway and roadway design, land development and site design, stormwater design and management, zoning analysis and 3D documentation, drones (sUAV's), GIS, and as-built modeling.  Since 2008, he has focused on 3D documentation and the completion of Engineering Surveys to assist in the design, investigation and coordination of engineering projects.  Mr. Kianka utilizes his design and documentation experience to oversee the 3D Documentation and creation of 3D models, visualization and animations for all projects that Haag completes.
Mr. Kianka oversees Haag's drone program and maintains a Remote Pilot Certificate – sUAS Rating with the FAA. He is a Director of the US Institute of Building Documentation (USIBD), and is a subcommittee member for ASME B30.32 committee preparing consensus documented related to Unmanned Aircraft Systems used in Inspection, Testing, Maintenance, and Lifting Operations for Cranes.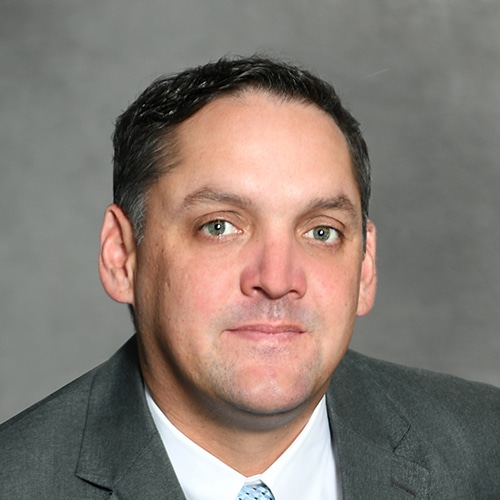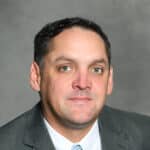 brandon alaniz, PRINCIPAL Construction Consultant
Brandon Alaniz is a Principal Construction Consultant with Haag Construction Consulting Co. He is an experienced construction consultant with more than 15 years in the construction industry. He is responsible for maintenance, and completion of all consulting services and related work product. His emphasis is building reconstruction, restoration, equipment and machinery cost, and remediation cost for the insurance industry.
Mr. Alaniz prepares construction loss and restoration estimates. He oversees remediation management services for losses that will be either repaired by the owners and need constant supervision to expedite, or losses that require management to fast-track a project without the need of a general contractor. Mr. Alaniz works to ensure the favorable and equitable conclusion of a loss. His experience includes many types of construction and restoration including: multi-family dwellings, commercial buildings, industrial complexes, and institutional facilities (schools, hospitals, municipal). 
Any opinions expressed herein are those of the author(s) and do not necessarily reflect those of Haag Technical Services, Haag Engineering Co., Haag Education, or parent company, Haag Global, Inc.